Empowering You Today With Ancient Martial Wisdom
James Sumarac has been a consummate teacher and practitioner of Martial and Healing Arts for over 40 years.  He took his first steps on the path of Martial Arts in 1972, firstly studying Judo and Jiu Jitsu.  In 1974 he travelled to Japan, became an uchi deshi (live-in student) under the late master, Gogen Yamaguchi (1909-1989), from whom he received his First Dan Black Belt.
Following a chance meeting with Master Tadahiko Ohtsuka (1940-2012), one of the most brilliant karate masters of our time, he became James' teacher and mentor and fortuitously changed his life forever. This relationship has spanned the lifetime of James' professional career. Under the guidance and tutelage of Master Tadahiko Ohtsuka, he trained in the Goju Kensha system and become the Principal Instructor for Australasia, a position he held for 30 years building one of the biggest and most respected schools in the region. Additionally, through Master Ohtsuka's encouragement, he developed a passion for the Nei Jia (Internal Styles of Chinese Kung Fu). James continues to study under the son of Chen Pan Ling, Chen Yun Ching (1938-2022) in Taiwan and was adopted as his brother in 2009. He also has a passion for Chen Style Tai Chi Chuan and has studied extensively with Master Zhu Tian Cai. In recent years, his mentor was Internal White Crane Master Tseng Jin Ying (1933-2021), who James travelled to rural Taiwan to study with at every available opportunity.
Now an 8th Dan and Chief Instructor of Goju Ryu Kakurin Kan International, James has taught thousands of students in Australia and overseas. He has also written several texts on the Martial and Healing Arts producing many instructional videos.
James continues his research even after Master Ohtsuka's passing in 2012, and travels to Japan frequently to study Goju Kensha under Master Noguchi Michiro, the principal of Goju Ryu Etsukou Kai, with whom he shares a direct affiliation and warm friendship.
James' unique teaching style combines many years of experience with both a light sense of humour and practical detailed knowledge, creating a comfortable, professional and caring environment for people of all levels of expertise.
In 1998 James was awarded by his peers in the industry "Karate Instructor of the Year" in the Blitz Martial Arts Magazine Hall of Fame Awards. He has made in excess of 20 trips to Japan, China and Taiwan in search of more knowledge and understanding in the Martial and Healing Arts.
In 1984, influenced by his passion for the Internal Arts and with prompting by Master Ohtsuka, James turned his study to massage, acupuncture, moxibustion, herbal and Qi Gong therapy. This reinforced his personal belief that the Martial and Healing Arts are complimentary parts of a holistic approach to life, illustrating the old adage that "one who learns to harm, should first learn how to heal".
Over the past thirty years these Martial and Healing Arts skills have enabled James to develop a revolutionary program specifically tailored for physically challenging situations. Using his program, James conducts and mentors at both mainstream schools and specialist settings. This program instructs teaching staff and parents on gentle and safe, but effective strategies in handling situations where students/clients present behaviours of concern.
He also conducts a unique series of seminars in the corporate sector, covering stress management, conflict resolution and personal development utilizing martial arts principles with clients both large and small, including Mobil Oil, Coles Myer, Department of Education and Training, Department of Human Services and Virgin Airlines.
James lives at Wu Lin Retreat, located in Lancefield in Central Victoria on a country property at the base of the Cobaw Forest. Wu Lin Retreat is a purpose built Martial and Healing Arts Centre, made from mud brick and recycled materials from China. Classes are conducted weekly in Goju Ryu Karate-do, Chinese Internal Kung Fu and specialized professional development seminars are held for schools and companies.
At the Retreat James and his wife, Shou Mei, share an exciting life where they consult with clients who travel from all over the state and abroad to seek their guidance and knowledge on a healthier and more balanced lifestyle.
His commitment to such a busy schedule is testimony to the love and dedication he has to his chosen life and the depth of commitment he has to improving the quality of not only his life, but of all those with whom he comes into contact with.
GOGEN YAMAGUCHI (1909-1989)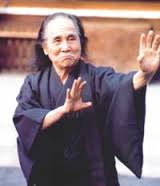 Gogen Yamaguchi nicknamed "The Cat" was the founder of International Goju Kai Association and decorated by the Emperor of Japan for his contribution to Budo.
TADAHIKO OHTSUKA (1940-2012)
CHEN YUN CHING (1938-2022)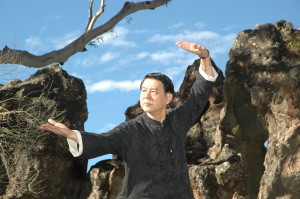 Chen Yun Ching was son of Chen Pan Ling, a famous Martial Artist and scholar who wrote a myriad of texts for the preservation of the Chinese Martial Arts.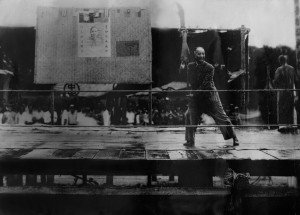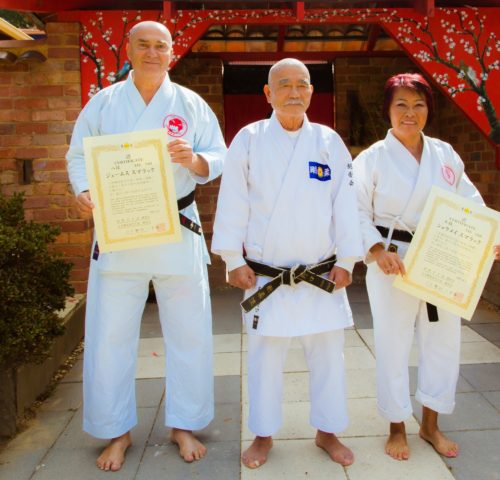 James and Shou Mei Sumarac receiving their 8th and 5th Dans respectively From Master Noguchi Michiro, April 2017.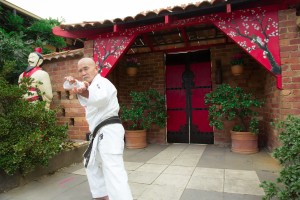 Master Noguchi is senior student of Ohtsuka Tadahiko and the head of Goju Ryu Etsukou Kai Karate International, now teacher of James Sumarac.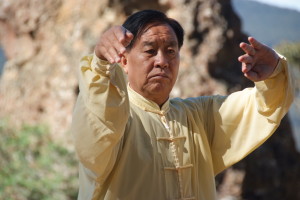 Zhu Tian Cai a 19th generation Master and is one of the "four tigers " of the Chen Village that carry on the legacy of Chen Style Tai Chi Chuan.